Old Mountain Farm JusPlainSven
ADGA registered Nigerian Dwarf
DOB: 2/14/2022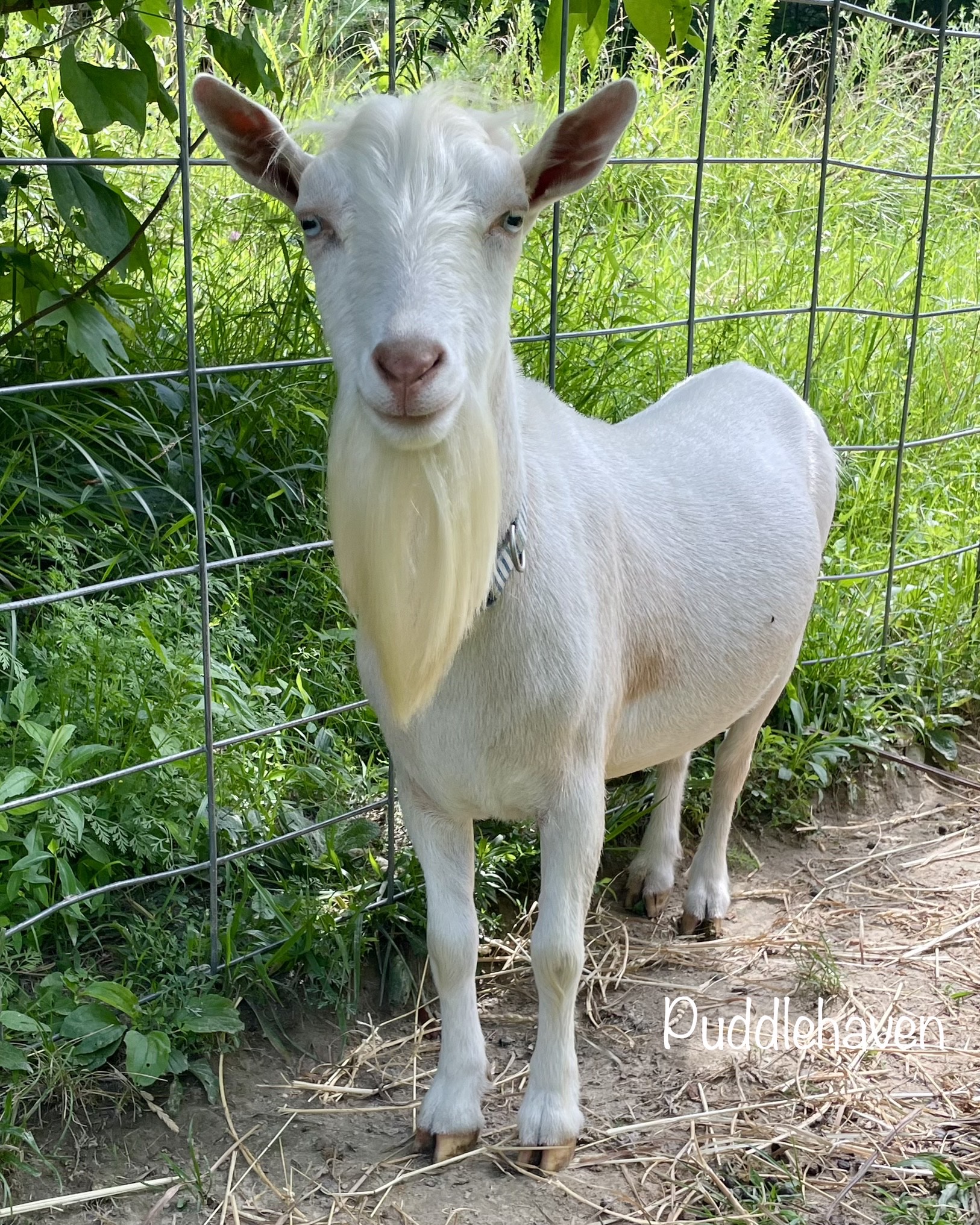 | | |
| --- | --- |
| Sire: | Old Mountain Farm JustPlainEd VEV 87 |
| SS: | SG Old Mountain Farm Nightshade VVE 86 |
| SD: | CH Old Mountain Farm Millet +EEV 87 |
| Dam: | Old Mountain Farm BlakTyAffair 1*M +VVV 86 |
| DS: | Old Mountain Farm Tomo Quinn VVV 89 |
| DD: | Old Mountain Farm Parti Favah VEEE 90 |
Sven is long and lean and should add refinement to the Puddlehaven herd.
DNA on file, sire verified
Alpha S-1 Casein: A/B --> Click here for more information
Sven's grandsire Nightshade was on the Elite list in 2020 and 2021.
The Elite List is based on a genetic evaluation of the milk production of a goat and all of its female relatives. It's calculated twice a year and the top 5% of does and the top 15% of bucks of each breed make the list.
M and B designations are milk production awards.
The letters and numbers at the ends of names are linear appraisal scores.
SG (Superior Genetics) designations are awarded to goats in the top 15% of the production index (PTI) for their breed. The PTI is a combination of milk production and linear appraisal scores of a goat and its female relatives.
Kids Born at Puddlehaven
Puddlehaven Rogue
MDGA registered Mini-LaMancha doeling
DOB: 5/23/2023
Puddlehaven Cayenne - Retained
MDGA registered Mini-LaMancha doeling
DOB: 5/23/2023
Rio
Mini-LaMancha wether
DOB: 5/23/2023
Yukon
Mini-LaMancha wether
DOB: 5/23/2023
American Pharaoh
Nigerian Dwarf wether
DOB: 5/19/2023
Tim Tam
Nigerian Dwarf wether
DOB: 5/19/2023
Puddlehaven Silver Charm
ADGA registered Nigerian Dwarf doeling
DOB: 5/19/2023
Puddlehaven Sunflower
ADGA registered Nigerian Dwarf doeling
DOB: 5/9/2023
Puddlehaven Marigold
ADGA registered Nigerian Dwarf doeling
DOB: 5/9/2023
Puddlehaven Buttercup
ADGA registered Nigerian Dwarf doeling
DOB: 5/9/2023
Puddlehaven Princess Mononoke
ADGA registered Nigerian Dwarf doeling
DOB: 4/24/2023
Puddlehaven Ronin - Retained
ADGA registered Nigerian Dwarf buckling
DOB: 4/24/2023
Ash
Nigerian Dwarf wether
DOB: 4/16/2023
Aspen
Nigerian Dwarf wether
DOB: 4/16/2023
Puddlehaven Pippin
ADGA registered Nigerian Dwarf buckling
DOB: 3/26/2023
Puddlehaven Freckles
ADGA registered Nigerian Dwarf doeling
DOB: 3/26/2023
Puddlehaven Silver Star
ADGA registered Nigerian Dwarf doeling
DOB: 2/20/2023